Come Away With Me the ongoing story of the life of Ross Harvey

'Yes, I am fulfilling my destiny, leading mankind to Eden (Heaven on earth).'

In the days of December 2003, God showed and told me things which were not of this world, but, of heaven. He led me to a house in Senneville and told me it would be my house and that all my family and friends would occupy the houses around this house, situated at 270 Chemin Senneville.

He told me that Darrell Huxham and his firm, Huxham Golf Design, would redo Braeside Golf Course (across the street from my house), turning it from a little 9 hole country golf course into an amazing 36 hole Championship Course worthy of the name Braeside National, which my great buddy Stots and I call it. The target date for completion of this project is July 1, 2025.

He told me that G3 Global Corporate Headquarters would be built just down the road from my house by my great buddy Michael Murphy and that a part of this facility would be a NuVoWay LifeStyle Centre with 8 courts each of racquetball, squash, tennis and badminton, 8 table tennis tables, a state-of-the-art fitness facility and a sports bar/resto with 4 golf simulators. The target date for completion of this project is July 1, 2025. All my family and friends will work at high level for G3, which is growing heaven across this earth through its five activity areas; NuVo, G3 Golf, dogZlife, NuVoWay Foundation and Noah Project. People from all around the world will come to G3 Headquarters to learn about what G3 is doing and then will return to their area and help us to grow heaven into their corner of the world, ultimately touching every person on earth. By 2030, our aim is to have 250 G3 Destination Locations around the world. By 2050, our aim is to have G3 Destination Locations down to every city in every country across the world. The Hotel, Theme Park, The Forum Entertainment and Restaurant Complex and Performance Hall are included in our plans in order to enable people (from all over) who are coming for racquetball, squash, tennis, badminton, short tennis, table tennis, fitness and golf events to bring their families and to enhance their entire experience.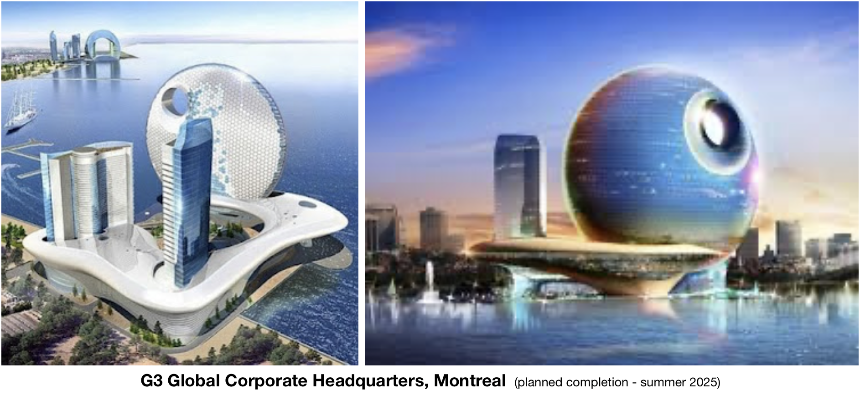 He told and showed me how our life in heaven on earth will be different than that which we live now - we will all be free to pursue our dreams as there will be no need to 'earn' a living. Everyone will have the best of everything life has to offer. There will be no wars (peace will reign on the earth) and a One World Government, with Jesus at the helm based in Montreal. NDG Project is the local extension of this - growing Heaven (on earth), first to a local community and ultimately duplicating the entire process until every square mile on earth is heaven!

He told me that the two passions of my life, racquetball and golf would grow across the world through NuVo and G3 Golf and that ultimately there would be in excess of 1 billion people playing each of these sports!
He told me that Come Away With Me would be the ongoing story of the life of Ross Harvey - and that together with a small group consisting of my family and close friends we would travel the world, New Jerusalem (1500 levels each composing 1500 square miles), the universe and parallel universes - doing as James Kirk and the Enterprise did - only for real and with no need for a spaceship - and reporting back to all those who will follow in our footsteps.

These are my dreams. I do not know when they will all come true, but, I know with 100% certainty that they will. This is my trust in God.